Hôpital Saint Eloi - Bâtiment INM
80, rue Augustin Fliche - BP 74103
34091 Montpellier cedex 5 - France
Tel.: (33) (0)4 99 63 60 00
Fax: (33) (0)4 99 63 60 20
Access to "Saint Eloi" Hospital :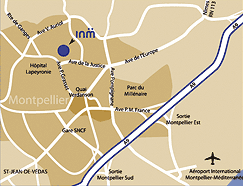 By car: Highway A9 - Take the exit «Montpellier Est - Millenaire» Direction «Centre-Ville», then direction «Hôpitaux-Facultés» finally, direction «Hôpital Gui de Chauliac-St Eloi».
By train or by shuttle from the airport: Get off the train at «Montpellier Saint Roch» and change to tramway.
By Tramway: From train station, take the line in direction «Mosson» and stop at «Saint Eloi ».
Access to INM's building in the hospital :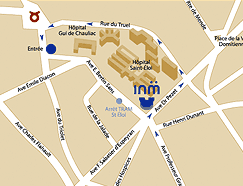 Arrival by tramway:
At Saint Eloi station, leave the tramway and walk up the «Emile Bertin Sans» street to the gate located on the right, 100 m ahead. Turn directly in the path of right-hand side and walk 100 m to reach the INM on the right.
Arrival by car:
Enter by the main entry of the hospital campus at the «Augustin Fliche» street.
For deliveries:
Turn on right-hand side of the building. An entry with a downward ramp is reserved (do not ring at the main entry of the building).
To live in Montpellier 
Some links to prepare your stay in Montpellier
Montpellier Tourist Website 
Accomodation
Restaurants
DETAILED PLAN