The genetic and clinical relevance of neuroinflammation in ALS.
Our vision is to direct a translational research integrating a clinical research, at the ALS center of Gui-de-Chauliac and genetic insights, at the genetic department of the Nîmes hospital.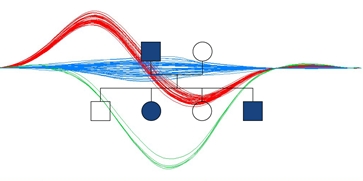 Clinical prospective studies with molecular diagnosis, association studies of single nucleotide polymorphisms as well as the forthcoming introduction of Next Generation Sequencing to conduct large-scale genetic studies provide us the means to evaluate the human relevance of our fundamental research.
External link: La Clinique du Motoneurone
http://www.cliniquedumotoneurone.fr
Major publications
Guissart, C et al., Sci Rep. 26, 20, 1-7. 2020
Mouzat, K et al., Int J Mol Sci. 20, 1-17. 2019
Nicolas, A et al., Neuron. 97, 1268-1283, 2018
Mouzat K., et al., Mol Neurobiol. 55(3):1959-1965, 2018
Mouzat K., et al., Cell Mol Life Sci. 73(20):3801-8, 2016
Camu W., et al., Neurobiol Aging. 35(5):1198-205, 2014
Masseret E., et al., PLOS One. 8(12):e83406, 2013
Benajiba L., et al. Ann Neurol. 65(4):470-3, 2009
Kabashi E., et al., Nat Genet. 40(5):572-4, 2008
Collaborations
Guy Rouleau (MNI, Montreal, Canada)
Paul Cox (Institute for Ethnomedicine, Jackson, USA)
Estelle Masseret (UMR5119, Montpellier, France)
Pierre-Marie Preux (UMR1094, Limoges, France)
Edor Kabashi (ICM, Paris, France)
Fundings

ARSLA
CHU Nîmes
Nîmes Métropole
Label Thématique émergente du CHU de Nîmes
Label Laboratoire de Biologie Médicale de Référence
Contact